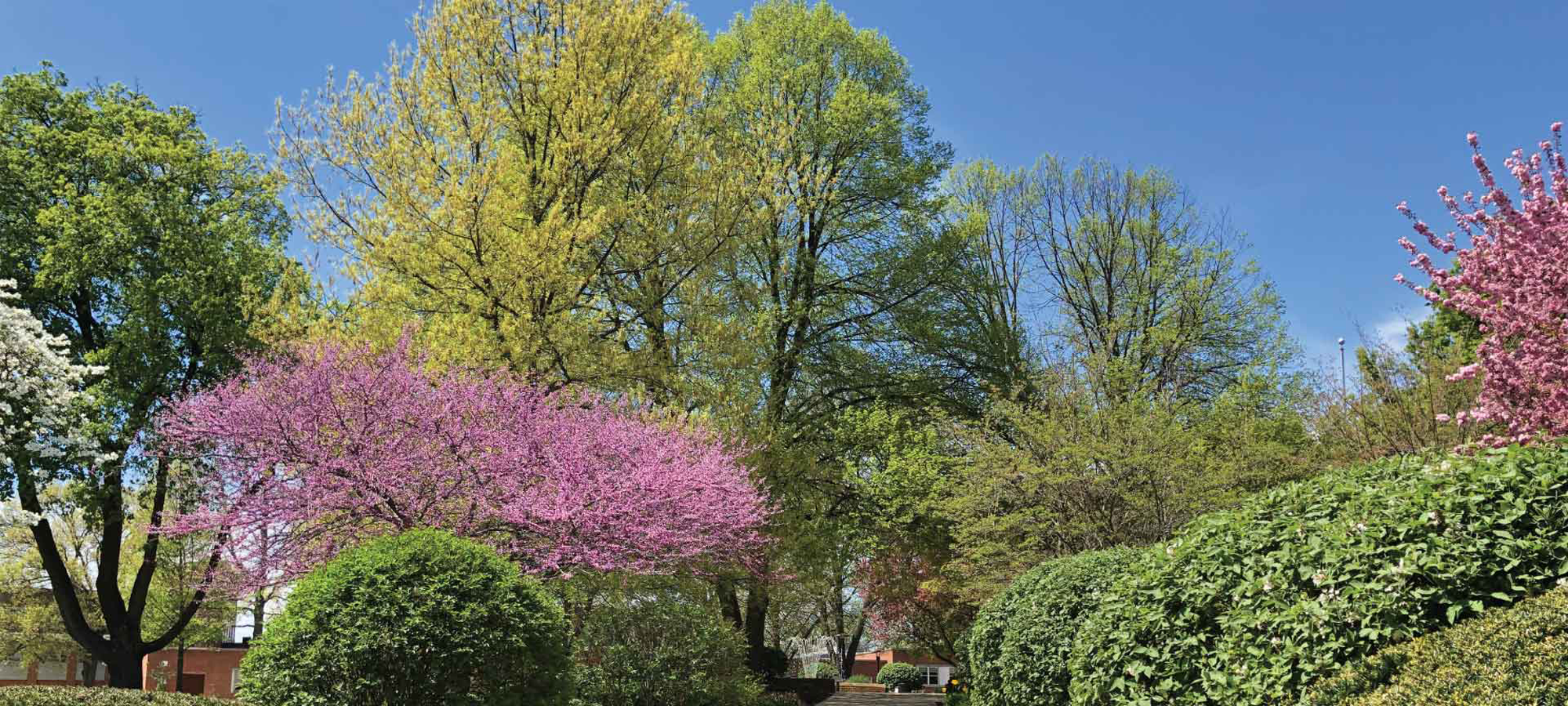 Academic Excellence and Innovation
"We're not preparing them for that first job – we're preparing them for a lifetime of meaningful careers," notes Dr. Pamela Gunter-Smith, President of York College. Experts in their fields, professors go beyond the textbook to guide students' learning through hands-on projects and collaborative research with community partners. As teacher-researchers, our faculty convey and exemplify the value of experimentation and critical thinking to yield intellectual discovery. This passion for thoughtful inquiry and engaged discovery through teaching-centered research is the cornerstone of York College's student-focused brand. At York College, results matter. And our professors diligently guide students toward that end with every class.
Spartan Athletics
York College's student-athletes represent the dedication and discipline necessary to race down a court or across a field, working with teammates to achieve a common (or literal) goal. They strive to reiterate these qualities across other tiers of student life, balancing their academic schedules with their sport commitments. The results of this diligence are fantastic. Over the years, our student-athletes have continued to be one of the most visible and positive elements of York College. Moreover, our ability to compete for conference championships each year and position ourselves for national success inspires student-athletes to reach their full potential in extraordinary and holistic ways.
Center for Collaborative Innovation
Intentionally created at the intersection of the five academic schools, the Center for Collaborative Innovation (CCI) will integrate cross-disciplinary scholarship and experiential learning through its three main focus areas: our York Engagement Scholars Honors Program, Center for Academic Innovation, and Knowledge Park. These people and projects will enhance the student experience and greater York community, acting as dynamic catalysts and laboratories for project-based learning where industries and students work together. They will also draw on our already established academic programs, while continuing these transformational efforts to strengthen local, regional, and national partnerships for job creation and scholastic excellence.
Scholarships
York College's scholarship model is one that maximizes financial accessibility. We are committed to making a York College education affordable to each admitted student. The College accepts students based only on their achievements, talents, and promise – not on their family's financial situation.
Scholarships are our #1 philanthropic priority.
Last academic year, we distributed approximately $19 million for merit and need-based aid, of which 16% ($3 million) came from endowed funds. Over 96% of our students receive some sort of financial aid, with 90% receiving aid from the College. The average total award is $18,182. Of that amount, an average of $6,366 comes from YCP. Still, we know that, on average, there is a $6,000 gap per student between what they receive and what they can afford. That gap between financial aid and what a student can afford could be the difference between earning a degree or giving up their dream.
Spartan Commons
Spartan Commons will be a gateway to learning, a centrally located institutional destination for student-centered engagement. Transforming yesterday's library, it will allow the College to use current and novel teaching methods, benefiting current students and attracting interest from new students eager for cutting-edge education. The state-of-the-art facility will offer activities, services, and learning opportunities for the campus community, where faculty, staff, and students gather and engage in intellectual pursuits. Through this, both our facilities and students will continue to evolve in positive and meaningful ways.
York Country Day School
York Country Day School (YCDS) prioritizes the excellence of our program and the distinctiveness of our student experience. Our curriculum prepares students for admission to their top-choice colleges, and positions them for success after college as they develop skills for life-long learning and a curiosity and engagement in real-world experiences. Fostering these objectives, our faculty, composed of a talented and diverse range of educators, use their leadership and pedagogical mastery inspire the academic experience of our students.
York College Fund
The York College Fund is the annual giving portion of fundraising at York, supporting the YCP experience. Gifts to the York College Fund touch the lives of every current and future student by providing funding for scholarships, academic programs, and student life that tuition alone is not able to cover.
The York College Fund is a gateway to success for students who may lack access to resources and experiences that help prepare them for their professional lives. Last year, over 2,200 donors gave $2 million, allowing the College to respond to the ever changing needs of our students, from increased student mentorship and tutoring to athletic teams traveling to NCAA tournaments.
Students benefit from the York College Fund in a number of ways, including scholarship support, travel funds to internships, and cooperative job experiences. Faculty benefit from funding for lecturers, conference opportunities, and classroom technology enhancements. In these myriad ways, gifts made to the York College Fund have a direct impact on the day-to-day activities of our campus community. Unrestricted annual gifts, in particular, are an important part of the fiscal health of the College.